First of all, why do I care?
This is to remind myself when I feel I'm not doing enough that I have done so much already. There's no need to push myself for appearance sake. My blog resume speaks for itself. The only thing I need to do is what I enjoy doing and that's to blog.
Most people spend the end of the year reflecting on what they have accomplished in the previous 12 months. Well I could do that. But I decided to really sit down and remind myself of all the things I've done in such a short amount of time.
I started this journey after resigning from teaching public school in 2011 and couldn't find another teaching job. That led me to becoming a freelance English as a Second Language teacher. I've been teaching ESL since 2007. As I sat in my living room day after day becoming more frustrated and depressed that I could not find a permanent teaching job, I decided to go to the library. I thought it would help me find a new career if I read books on things I thought seemed interesting.
A couple of months later I ended up at a women's leadership conference where Stedman Graham was the keynote speaker. I was hesitant to attend but my mom was like it's less than a mile from where you live. You can and should attend since you've already bought your ticket. I reluctantly went. I ended up being motivated by Vicki L. Milazzo more than Stedman. But that didn't stop me from taking a photo with him so I can say I was one step closer to Oprah, lol.
A few weeks later is when I started Women Are Gamechangers. Not my first blog. Well I had a blog in 2009 but it was only for a few months before grad school took over my life and I let it go. This one launched me into a different world outside of nonprofit management and education. A world I didn't know existed.
Here's what I've accomplished since September 2011:
Took Rosetta Thurman's 31 Days to Reset Your Life Challenge. In the middle of that challenge is when I decided to launch a blog. I just didn't know what the name would be.
Launched Women Are Gamechangers with NO technical or computer skills whatsoever. Some computer skills but you get the point. I wasn't tech savvy. And by launch, I mean I bought the domain and hosting. Then had to figure out how to make it live. No free blog here.
Received my first paid opportunity within the 1st 6 weeks of my launching the blog.
Covered an event where Cee Cee Michaela who played William's cop girlfriend from the show, Girlfriends, was the keynote speaker. I was able to talk to her and she was a very nice person. So not Hollywood.
One of the first bloggers for Nzuri Natural Hair Health and Beauty Showcase. Met bloggers that I'm still in touch with and friends with to this day.
Hired by an author in March 2012 to help with his online presence. Learned a lot about managing a client and reaching out to people in a more professional manner.
Found a client on Craigslist April 2012. Yes, Craigslist. We still work together to this day. She hired me to fill up her Quickbook seminars with potential clients. I had never done that before but I told her I could. And I did, repeatedly. Also, that led to her getting her first million-dollar client. And by million-dollar client I mean the client ran a million-dollar business.
Won a session with a life coach who encouraged me to start a Youtube channel as a way to showcase my expertise. So, I did. It actually received a lot of positive reviews. I closed it a few years later but that channel propelled me in front of a new audience and helped with other projects I will share in this list.
Started an intimate conversation series (because as an introvert I hate pointless networking). It was supposed to be for the summer and a way for me to meet people to eventually get as social media clients. They became popular with people asking from other cities when the event was coming there.
I hosted the first of a few galas. The galas were created to spotlight a small nonprofit I support and raise money for them. The first one was at an art gallery in the Heights and that's how I met Tomayia Colvin. She asked if she could be the photographer. I was surprised someone even cared enough to donate their time. Since then I've watched her grow into the powerhouse brand that she's built.
Hosted my first, last and only WAGC bootcamp for Women Are Gamechangers. It was actually a really good event. I had people who purchased tickets. The speakers were phenomenal and I learned that I do like planning those types of events.
I briefly wrote for Madame Noire. I learned a great deal about being a freelance writer for a bigger site. Mainly about pay as a freelance writer.
One of the top 1% most viewed profiles on LinkedIn in 2012. That was my most active year on that platform.
I was a judge 2 years in a row for the National American Miss pageant. Never thought I would be a fan of pageants but this one opened my eyes to it's more than pretty smiles and beautiful dresses. These girls had to have talent and were able to win money for school.
I was one of the bloggers for Dare 2 Aspire an event in Atlanta. I reached out to them and showed all that I've done and was accepted. It was great. I met some amazing people. To this day I still have some type of relationship with most of them.
I was on the social media street team for Texas Conference for Women. It was fun. And the conference itself was great. I mastered the art of getting through a large conference as an introvert. My yellow dress that day was a hit. I still remember the dress because I received so many compliments from it. People were in black, red, brown colors. And here I was in a bright yellow dress walking up and down the halls to the different sessions.
I won a pitch competition. I entered the Peoplefund Pitch Competition. I was deliberate in my video to address everything they asked for about Fusion Tour. That was the intimate conversation series I started the year before. In 2013, I decided to turn it into a tour. I won $2,000 and I used that money strategically.
I launched Fusion into a national tour that won an award on an innovative idea before we went to our first city. We went to 5 cities in 2013. It was a whirlwind time but so much fun. We went from Houston to Birmingham to Charlotte to Philly and D.C. I'm still in touch with many of those ladies to this day.
And that year I also produced, directed, wrote, hosted and created my own talk show for a local Houston TV station. It was based on my blog. It was a lot of work but I learned so much about the TV business. The women I interviwed on the show are exceptional women in their own right. They are true gamechangers in and around Houston. I was even brave enough to get a national political commentator on my show. I got my first bite and want more of it. Next time I'll be a little more prepared.
I was a blogger for Spark and Hustle, Women of Power Summit and Females are Fabulous Conference that summer. It was fun but a lot of work promoting their events, managing social media clients and my own tour.
I also hired my own freelancers to share some of my workload. It was great help being able to delegate work to other people and run a business. I guess you can say I became a boss. It was a strange feeling.
During 2013, Women Are Gamechangers continued to win blog awards especially in the business blogging category.
I was a speaker at the Texas Conference for Women in 2013. I was 1 of like 3 bloggers. I was able to meet Leymah Gbowee. You know the lady who won a Nobel Peace Prize in 2011. Yes, that lady. She was one of the keynote speakers that year. And she signed a copy of her book for me.
I was the 2013 Amazing Woman of the Year by Stiletto Woman. It's always an honor to be recognized by your peers.
One of the 50 Fabulous Women Entrepreneurs on Black Business Women Online in 2013. This recognition was one of my most cherished. You always want people you admire to see, value and applaud the work you do.
2013 was the best year on record for Women Are Gamechangers under my leadership.
The next year was the final year of Fusion Tour as things didn't work out as planned. But we had a great time reaching women in DFW, San Antonio, Chicago, Detroit and Houston. I really had to learn to be flexible and think quick to fix problems that arose. I tried to build a team but I realized I wasn't that great of a leader at that time. I needed to greatly improve my leadership and delegation skills.
2014 I started to slow down as I was getting burnt out, frustrated and upset that I still wasn't sure what I wanted to do even though I had accomplished so much already. I even put Women Are Gamechangers on hold for 9 months but still worked with clients at that time and spoke at different events. But not much blogging.
A nice way to come back on the scene was to be featured on cnbc.com as an accidental entrepreneur.
I began to create and sell ebooks, courses and other digital products. Some sold better than others. It was a learning process nonetheless.
I also spoke at three big blog conferences that year; Blogger Week, Blog Elevated and Blogalicious. All were conferences I've followed and knew I would not only learn a lot but have something to contribute as well.
In November 2014, I helped to restart the Houston African American Bloggers Association and eventually took it over. It's now the only dues-based blog membership organization in the country specially to black bloggers in a specific city. We're 3 years in this and going strong.
A Top 100 Young Professionals in Houston in 2015. It was a real surprise because I literally was just building my blog and client list, not paying attention to anything else.
Launched HAAB's Blog Bootcamp which will be in year 4 in 2018. It continues to grow and become a desired event for Houston's digital influencers to attend.
Created my first print journal. It was a huge accomplishment for me as it was my first tangible product. But I hated it with a passion. So, no one ever saw it.
I was part of a team that created Powerhouses United Conference. It turned out to be an amazing event and it's still an event today. I had to walk away as I was not where I needed to be mentally to work within a partnership.
Was a blogger for Verizon Minority Owned Business Summit. It had been a minute since I blogged and to be asked to cover this event was my way out of the shadows.
Launched a podcast, 'A Toast to Truths' where I share my lessons from being a blogger entrepreneur. And boy do I have lessons to share.
Created my second print journal. It was a really good journal. I learned a lot about printing journals and selling tangible products.
I got the official Trademark for Women Are Gamechangers. That was a 2 year battle but I won.
I went to Haiti with Black Celebrity Giving. I met Jasmine years before on Twitter and support her when she has events in Houston. This trip changed my life.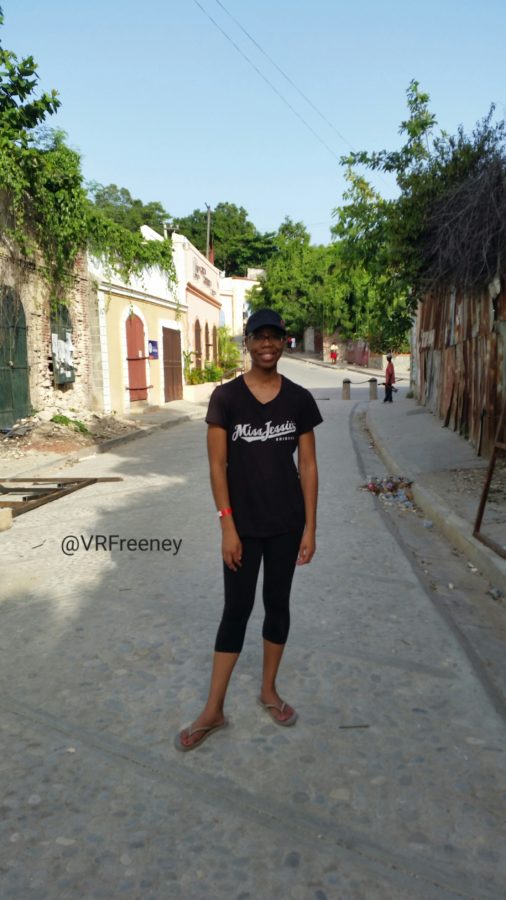 I was a guest on EOFire podcast. Talk about a boost to your confidence to be on one of the biggest and most popular business podcasts in the world.
Spoke at the Texas Alliance of Black School Educators conference. That shifted the direction I wanted to blog. Things began to really change in 2017 for me.
Was an AT&T Influencer for the 2017 Black Enterprise Entrepreneurs Summit in Houston. That was a fun event to cover. But I was exhausted at the end of the week.
I sold Women Are Gamechangers. It was time to let it go. A bittersweet moment.
Created my 3rd print journal. It is definitely my best to date. It also shaped the direction of my blog content as well as my niche.
Over the years I've written for Houston Home Based Business Examiner, Houston's Voices, Madame Noire, She Owns It and Walker's Legacy. While I enjoyed writing for these various sites I also learned freelance writing was not for me.
I've spoken all across the country. To be in front of people as an expert and not a teacher in a classroom is something I've never dreamed about. But here I am talking to people about blogging, social media, journaling and other things I learned over the last 6 years.
I'm sure I've missed some milestones but I'm still pretty impressed with all that I've accomplished in the past 6 years.
The most important thing that happened to me was realizing I had been suffering from depression for 20+ years of my life, getting help and finally being in a place of true peace has been my greatest accomplishment. I probably could have done more. Could have done what I did better. But if nothing else the stress of doing all that I listed above led me to a nervous breakdown and that was how I found out I had been living with depression the majority of my life.
Some of the events may be out of order but happened somewhere in that year. As I look back at all I've accomplished in 6 years of blogging, I can never say I wasn't a risk taker. I wasn't someone who was afraid of a challenge. I am someone who has really put myself out there past the shallow end of the water and was able to swim back to shore.
Since 2011, I have made a name for myself as a blogger. A name I am proud of. Most importantly, from my experience alone I am definitely a seasoned blogger. There's no doubt about that. I know this industry. Through trial and error, I have been able to create a nice niche for myself and make some money along the way.
Next year, the Houston African American Bloggers Association will launch a weekly digital show on Facebook, I will speak at the Teacher Self-Care Conference, I will continue to be the Organizer for the Houston African American Bloggers Association, my podcast will keep it real and I'll continue to write to shed light on mental health issues in the black community, teach journaling and cover the fun business events you should be at.
In other words, I will continue to blog because I'm excited to see what the next 6 years have in store for me.